In my world food = love. When you love somebody, you want to take care of them. If you don't particularly care for a person, then you don't really care if they're hungry. Hunger is one of our most primal needs. Therefore, the more I care about you the more/better/tastier/healthier I feed you.
For example, when I bake to bring stuff to work, I usually make cookies or some kind of sweet. Sure I like the people I work for, so the food is tasty, but it's not cooking at my best, and it's certainly not healthy... cause I don't really really care about their health. (oops I think that came out wrong. lol)
I bet you thought this was going to be a touchy feely blog... ha! Wrong! It's a food blog!! But I had to explain all of that so that I could say "I must really love my husband and dad" and have you really understand why I say that.
Father's day Menu...
Mojitos
, Mules
steak on the BBQ, sausage,
Garlic Parmesan Monkey Bread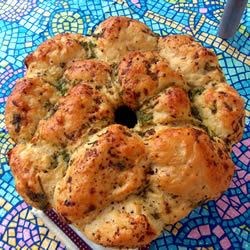 Cola Ribs
, potato salad, and....
Chocolate Banana Split Dessert
.
Really me,
Your loving wife, and daughter,
Nik